Remember 'Dress like J Day'? And when I mentioned J's grandpa accusing him of being a gay rabbi? Since my brain is busy with NaNoWriMo, here's an excerpt from an email that J got from his grandfather after sending him these pictures..





Subject: Rabbi J

"Thanks for the pictures of you and your friends at the Hebrew school.  Then I realized one of them was a woman and several of them looked too happy. Then too, the Jews wouldn't tolerate men who wore earrings, which use to be symbol of homosexuality.  I don't remember if it was worn on the left or right ear but you and one of your friends make up for that by using both ears.

My what a good looking group.  When I first looked at the pictures I wondered where J was but then decided you were taking the pictures. Whoops, there he is leading the pact (so to speak) with his face full of hair.  At least your head is in good sartorial spender.  Did you have the beard when you were hired or was that a late addition to your attire?"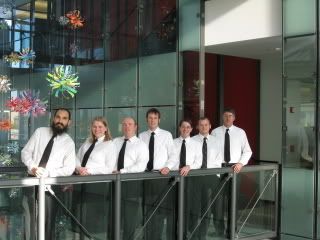 There ya go... thought I wouldn't make it for the first day of NaBloPoMo.. didn't ya!