Last week, we made tacos. Not your 'Taco Bell box' tacos, but real tacos. And when I say 'we' I mean J. I just sit in the kitchen, watch him, drink beer, and look cute. I might even flash him a boob now and then when the kids aren't looking. What? You want good food? Entertain your chef.
Here's what was left after serving all the children and having a couple ourselves.. mmm. mmm. We finished them off today at lunch time. I would have cried, but I know my husband will make more.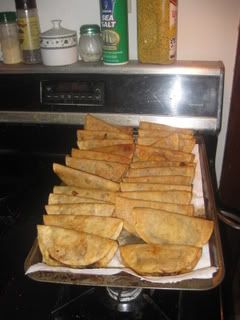 Goes nicely with beans and a bag of Dole's Southwest Salad mix (
our kids' favorite
).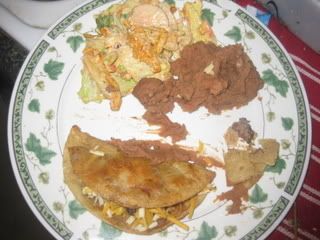 and of course, beer.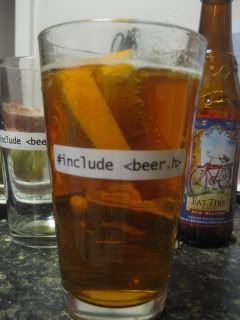 So, the husband is quite the stud. Have I mentioned that? Not only does he make a mean taco, he also can make a kick ass website. And? he's athletic too. What more can a girl ask for, right? He has taken advantage of several of the amenities at his place of business, such as: core training class, weight room, and free Taekwondo (
spellcheck thinks I'm trying to spell Wonderbra..
) classes. He also does soccer outside of work. His soccer career did not begin in his childhood, or even his teens for that matter. No, he started playing soccer when our second born (
Kieran, for those of you playing along at home..
) was just a wee bairn. Over the years, he's played off and on.. starting his own groups with church friends, playing in pick-up leagues and various indoor venues. He is currently playing indoor soccer.. or, more specifically 'futsol' (
I really have NO idea how you spell that..
).. or something like that. Anyway, for the first time in all his years playing, I (
his lovely wife
) actually graced the field with my presence (
in other words: he was brave enough to let me and the little 'uns tag along to his game
). It was lots of fun. And I even got to watch some of the game! That's him.. in the goal. No, he's not the ball.. He's the big, burly, bearded one with the mad ball blocking skills.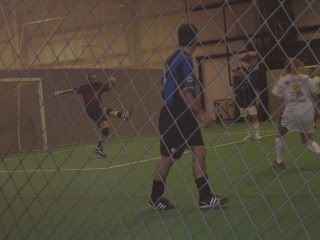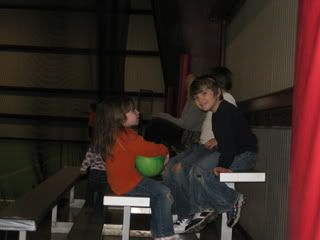 Yes, they did indeed win their game. And only one ball got past my studly man, thankyouverymuch.
So, being that I hate to be shown up, I've decided to get my flabby ass off the couch again and try to shed that last few baby pounds/winter coat. My weapon of choice? Wii Fit. Now, I've actually proven myself before with the Wii Fit.. but well.. we were using a projector (
after abandoning our television
) last summer/fall and the bulb burned out.. So, I was left hanging. (
Don't worry, the kids didn't miss out on their cartoons.. we have an HP media PC which we run our cable tv through
.) But, good news folks! We have a replacement projector on the way (
one with much cheaper replacement lamps!
), and I will no longer have an excuse for my flabbiness!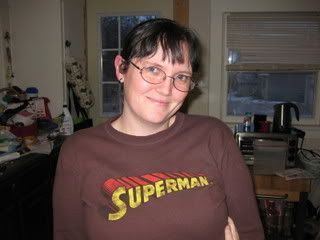 So, if I'm not around much in the future.. I'm busy trying not to fall off the Wii Fit board.. and if I'm around
more
than usual.. it means I'm washing away my feelings of defeat with a big tub of ice cream.. or something.
In the effort of full disclosure, I will try to get over my concern about scaring you all away and attempt to post a *gulp* 'before' picture.. or not.