So I finally started reading
Watchmen
, I'm not so sure I'll finish it by Friday. See, I have to clean my house too, so that we can get a sitter for our date. So between the house cleaning and the
Watchmen
reading.. I'm not so sure I'll finish (
see there's all these little short people running around getting into trouble and stuff.. they get in the way of me getting done what I need to do. It's fun.. really.
)
But hey, we'll see..
This post is taking me a ridiculously long time to create.. between this, Twitter, IM conversations, and my kids.. oy. Some days you people just don't realize the effort.. nay, the *magic* that has to happen to keep this blog going! You're welcome.
As I mentioned yesterday, we have no TV. We currently have a computer that the kids can watch TV on.. Like this: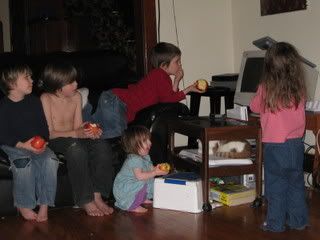 Okay, that picture is already outdated.. Last Friday we got a new flat screen monitor.. SO much better. But today? We get our new projector! (
it's out for delivery right now.. so who knows, by the time I get this dang post finished, I may be playing Wii Fit.. and have lost a few pounds!
) So, tonight is movie night in the ChurchPunkHouse.. and pot roast night. Crap! I need to get the pot roast started..
So my reading list is short this week.. the only one I'm committing to reading is Watchmen. That's easy right? Right.
Songs playing on my mp3 player (
to drown out the baby crying who fell asleep in my arms and then woke up when I put her down all during the course of me typing up this post..
):
Ninety Pound Wuss: Nostalgia
Ninety Pound Wuss: Perserverance
MxPx: Hidden Track (Teenage Politics)
Ninety Pound Wuss: Short Hand Operation
MxPx: I'm the Bad Guy
Emery: Story of a Man With a Bad Heart
MxPx: It's Alright
MxPx: Drowning
Flatfoot 56: Amazing Grace
Ninety Pound Wuss: Olympia
Emery: Rock-N-Rule
Slick Shoes: Now is The Time
So, are you going to
BlogHer
? You should. I'll be there. And my husband will be there. If you come, I'll have him make you tacos. No really. Tacos. You should come.
Oh, here's an award that I got from
Pamela
!!
Check her out, she's awesome. I'd pass it on.. but well, this post is getting a little crazy.. so perhaps another day. Oh, my brain hurts...
Speaking of MxPx, here is the next installment in the announcement videos for 'On The Cover II':
And since I miss doing 10 Things Tuesday, I'm going to add it in here.. So here is...
10 Things I Plan To Accomplish By the End of the Week:
clean the boys' room
clean the girls' room (

again

)
clean the bathrooms
teach my kids something
finish this post
do some Wii Fit
finish reading Watchmen
get the laundry put away
lose a pound or three
make sure J has clean underwear.
Okay, I have to go break up a fight over crackers...