I really, really wanted to blog today. But had no idea what to post. So you get this. You're welcome.
Okay, that was kind of a lie.. I had something to post, but it got vetoed by my lurvly laptop which did not want to play nice with my camera. My husband can get them to cooperate (
because he's just a genius, that one..
), but when I get them together.. well, they're just all kinds of stupid. So I gave up. Sorry. I'll post it another day. After I can pry my little minions off the main computer and dump my camera on there. So there.
Some randoms for you:
"Mom?"
"Yes Torrin.."
"Do you know why I like blood?"
"Um.... no, why?"
"Because it's red."
"Oh.... Okay."
pbbbpppfffttt
"Did you toot Ellie?"
"No, I farted."
"Oh, I see. Is it stinky?"
"No, I'm a girl."
"So girl farts don't stink?"
"No, it was a pretty fart."
"I see. So do boy farts stink?"
"Yes. But I a girl."
"Yes you are. So your fart was pretty?"
"It was beautiful."
"Yes, Ellie. Your farts are beautiful."
"I'm going to wait until I need to poop.. so that I can make room in my stomach. Then I'm going to have some lunch."
"You already had lunch, Kieran. You ate a bagel and cream cheese."
"Oh. That's right. Then I'll have some breakfast."
"You already had breakfast too."
"I did?"
"Yes, you had a waffle."
"Oh... I am
such
a dork!"
**************************************************************
So, my camera broke. I had a Canon PowerShot S2 IS. It was nice. I was very happy with it. We had lots of good times together.. *sniff* I'm sad.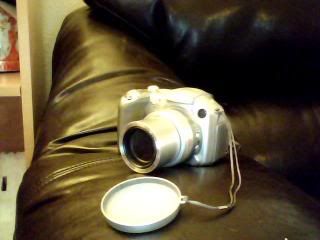 The Problem.
Notice how the lense is extended? Yeah. It won't go back in. Is stuck. Is broken. In the past, every time we've replaced a digital camera, we've upgraded. Sadly, not the case this time. It broke probably over a month ago.. Long enough that I don't remember. The kids swiped it (
a regular occurrence round these parts..
) and.. well.. they broked it.
This time? We didn't have money for a big fancy camera. And, after a few weeks without one *cry*, we decided to get a stand-in camera until my awesome husband can buy me a fancy new one (
I may or may not have one picked out already.. oh hai Canon Rebel XSi DSLR.. *drool*
). I am now the proud owner of a Canon PowerShot 790 Elph.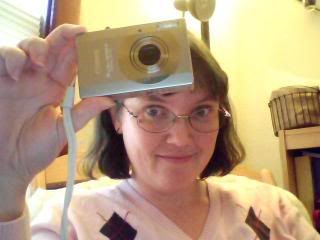 The Solution.


That Wordless Wednesday post down there?? I took that picture the day I got my new camera. Pretty good no? I thought so. That happy face? Yeah.. Torrin was excited about the camera too. My kids are all a bunch of show offs.. and if a camera comes out, all we hear is '
Take mah pitchur, take mah pitchur!
' So yeah, no camera = no fun.