Okay, I didn't really
ditch
Sausage.. She's been adopted! 2 cats gone, 2 more to go, and once again the lovely Kelly can rule the roost.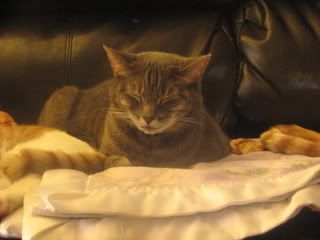 Sunday my amazing husband was kind enough to not only watch all 5 children for like six hours so I could go to my writing group, he also walked the half mile to the store to do the grocery shopping with them. I tell you, the man is a saint. (
So tell him in your comment how awesome he is.
) We had a short story challenge in our writing group - we decided to each write as much of a short story (6000-7500 words) as we could in one afternoon and then post them to our (
shiny new thanks to J and I
)
blog
to share with each other.. before editing them and reposting a polished piece later. I had a zombie dream a few weeks ago that was just.. well, it was awesome. So I saved it specially just for this short story challenge occasion. I didn't finish my story yesterday, but I came pretty close.. feel free to
check it out
.
This weeks' comic book stash:
Incognito
(2) by
Ed Brubaker
and
Sean Phillips
Rest
(0-2) by Milo Ventimiglia (you know, the guy from
Heroes
?)
Batman 'Whatever happened to the caped crusader?'
(1 of 2) by
Neil Gaiman
and
Andy Kubert
and the rest of the extra stuff in the back of the first issue of Phonogram by
Kieron Gillen
and
Jamie McKelvie
(
their stuff is awesome.. jus' sayin'.
)
I also need to read Watchmen.. yeah, I still haven't started it. Shut up.
So another awesome surprise on Sunday was this little bad boy..
which was bestowed upon me by the fabulous
Irish Gumbo
. Okay, okay.. it wasn't totally a surprise.. see, he sent out an email to notify us of this little event and there may or may not have been talk of a shin dig over at
Mama Dawg
's place involving strippers, shovels, nachos, quick lime, and beer.. and maybe a roll of duct tape or two.. but I'm not naming names. I'm not like that.
Thank you so much, Irish.. You are one kick ass friend yourself.
He said something about rules.. but I wasn't paying attention (
I was too distracted by Captain Dumbass's beautiful eye shadow
) so I'm just going to pass this little goodie on to a few of my homies and hope it all goes around in the end. Mkay?
So..
Pamela from
The Dayton Time
and her fabulous
Mister from
The Mister
Amy from
The Sprightly Syndicate
and, of course, Teri from
Cold Lemonade
come on over and
pick up your shit
collect your award.
I love you people. You mean the world to me. And thank you so much for checking up on me when I don't
show up to work
blog as much as I normally do and making sure I
didn't off myself
am still okay. You kick ass.